Work schedule:
Monday - Friday
09:00 - 18:00
Saturday
10:00 - 15:00
Orders processed on site during working hours.
Phone:
+38 (097) 840-12-80
+38 (093) 996-08-83
Viber:
+38 (097) 840-12-80
Email:
info@mycandle.com.ua
Skype: Sweetcandle_85
(Olga Vakhula)
Address workshop:
Ukraine, Kyiv
st. Tupolev 19.
Please keep in mind our flexible schedule, the visit must agree before by telephone.
We offer you a starting kit for carved candles. Now you do not need to bother and search for various materials and tools. Now everything is collected in one place. In addition, ordering a set, you get master class on making carved candles for free.
For your convenience, we have created several sets for every taste and budget.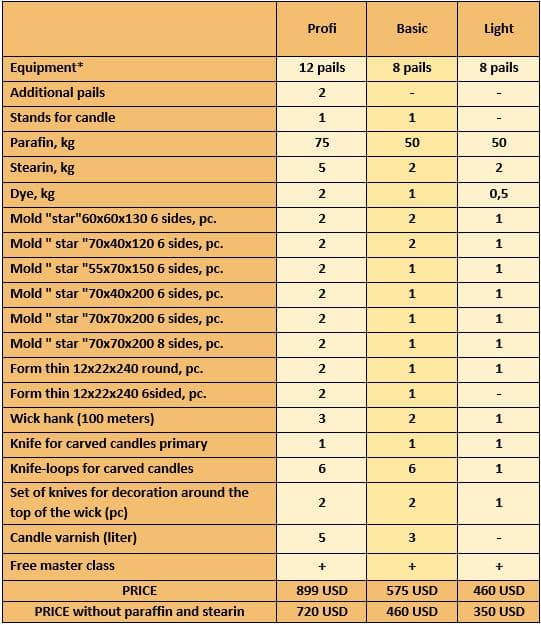 The number of pails in the equipment can be changed at your request. The height of the equipment is 42cm, the width is 37cm, the length 55cm (for 6 pails), 70cm (for 8 pails), 85cm (for 10 pails), 100cm (for 12 pails). Dimensions of pails are 150 * 150 * 330mm. Capacity - 5kg paraffin. The equipment is provided with drain valve and heating elements of Italian production with thermostat. The walls of equipment are plastered with insulation material reducing power consumption. The kit also includes a cover with insulation. The equipment is easily transferred, so you can participate in retreat events, exhibitions, fairs. The set includes: oak sticks for mixing paraffin, candle hooks, 5 pc., electronic thermometer to monitor the temperature of the wax. It is possible to order additional pails.
1 year warranty.
Delivery of the equipment in Ukraine for free. The delivery to other countries is possible. Delivery in other countries.
Заказала в этом магазине набор стандартный на 8 ведерок очень сомневалась т.к. я только начинаю заниматься свечами, что и как позвонила где мне все доходчиво обьяснили и посоветовали.Посылку собрали очень быстро и вот я получила мне привезли прямо на дом все очень хорошо упаковано и очень хорошего качества спасибо. Все дальнейшие покупки буду делать только в этом интернет...
Заказала в этом магазине набор стандартный на 8 ведерок очень сомневалась т.к. я только начинаю заниматься свечами, что и как позвонила где мне все доходчиво обьяснили и посоветовали.Посылку собрали очень быстро и вот я получила мне привезли прямо на дом все очень хорошо упаковано и очень хорошего качества спасибо. Все дальнейшие покупки буду делать только в этом интернет магазине. Очень приятно работать с честными и порядочными людьми. Спасибо