Work schedule:
Monday - Friday
09:00 - 18:00
Saturday
10:00 - 15:00
Orders processed on site during working hours.
Phone:
+38 (097) 840-12-80
+38 (093) 996-08-83
Viber:
+38 (097) 840-12-80
Email:
info@mycandle.com.ua
Skype: Sweetcandle_85
(Olga Vakhula)
Address workshop:
Ukraine, Kyiv
st. Tupolev 19.
Please keep in mind our flexible schedule, the visit must agree before by telephone.
W offer you a starting kit for carved candles. Now you do not need to bother and search for various materials and tools. Now everything is collected in one place. In addition, ordering a set, you get master class on making carved candles for free.
For your convenience, we have created several sets for every taste and budget.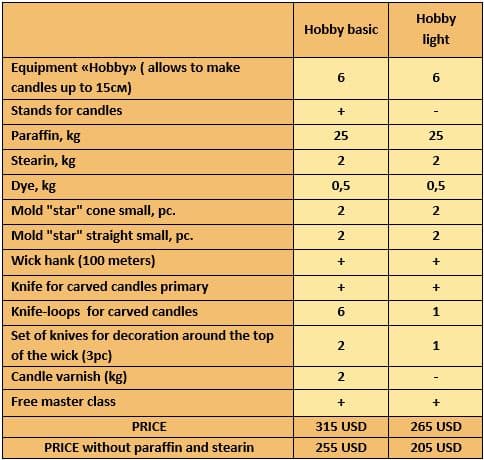 The number of pails in the equipment can be changed at your request. The dimensions of the equipment "hobby" for 6 buckets are 33x30x45сm. It has little consumption of wax and dye. It allows you to make the candles up to 15 cm in height. The size of the pail is 13x13x22сm. The capacity is 2 kg of wax. The equipment is staffed with heating elements of Italian production with thermostat. The pails are mounted on a grate with rubberized feet. The equipment walls are plastered with insulation material, reducing power consumption. The kit also includes a cover with insulation. The equipment can be transferred easily and you can participate in retreat events, exhibitions, fairs, etc. There we have attached: wooden sticks to stir the wax, hooks for hanging candles (5pcs), electronic thermometer to monitor the temperature of the wax.
1 year warranty.
The delivery in Ukraine for free. The delivery to other countries is possible.